Posted by
Kaya Kupferschmidt
• Monday, January 2. 2006 • Category:
OpenGL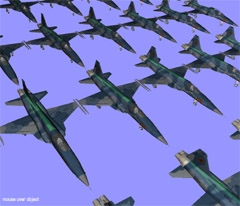 It's already some months since the last demo for
Magnum
has been published. Unfortunately a real new demo is not ready yet (I am even not working on any), but the library has been extended by many new features including


Transparency support


Picking


New input methods for VR devices like the P5 Glove


Camera Layers


many bugfixes and improvements


Most of the work is behind the scenes, but the biggest new feature probably is picking, which is not only implemented in the model classes, but also in the scene3d universe class which enables effcient culling of nodes that cannot be hit by the pick-ray.
You can download the newest version of Magnum
here
and the newest test can be found
here
.