Posted by
Kaya Kupferschmidt
• Tuesday, November 22. 2005 • Category:
Weird
For all you lumberjacks out there, and especially for all you blood-thirsty gamers out there, who still love the famous chainsaw of doom, there is an ultimate gadget for you:
The Resident Evtil Chainsaw Controller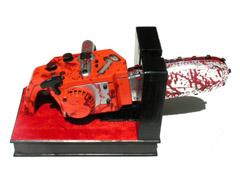 . If you are interested, you can get some
more details here
.